The first of its kind, The Cavendish School will be an International Baccalaureate (IB) World School, which means that our curriculum will follow the IB programmes and accredited qualifications, alongside specific therapies or interventions as appropriate for individuals. IB programmes enable children to become globally aware citizens, make connections between their learning in different subjects, and develop the skills and confidence to succeed. Following IB programmes of study allows us to forge strong connections with Impington Village College, our co-located mainstream school, and Impington International College (its sixth form provision) which will provide excellent opportunities for the students, through use of facilities, support staff and bespoke extra-curricular activities. Impington Village College has been an IB World School for over 30 years, and The Cavendish School will join it in being part of a global community, unified by the mission of creating 'a better world through education'.
Our curriculum model will be set out as follows: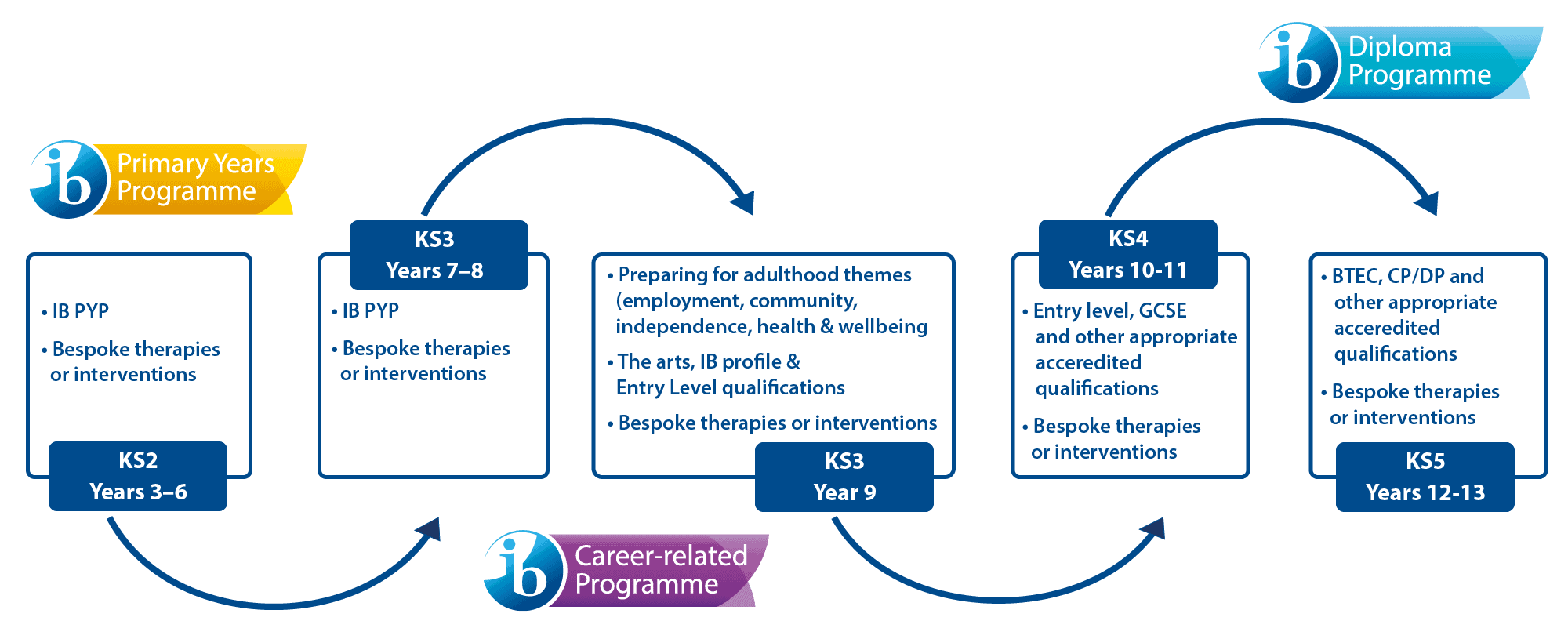 The curriculum at The Cavendish School will allow our students to:
Develop each of the IB learner profile attributes and become globally aware international citizens

Achieve a range of accredited qualifications, which represent excellent progress for that individual and allow them to move on successfully to their chosen destination

Make measurable progress towards their own personal outcomes as outlined within their Education, Health and Care Plan
Alongside our curriculum and teaching methodology, therapy, interventions and multidisciplinary support will be embedded throughout the whole school day, regardless of age or Key Stage, as appropriate for each individual. All students at The Cavendish School will be known by all staff, but particularly by key staff, who will work closely with them and who will support them individually as they progress through the school.
Beyond high-quality teaching, therapeutic support will be essential in ensuring that students are able to have full access to the curriculum, to learn and to achieve. We will offer students the opportunity for multidisciplinary support, which will be carefully matched to the explicit needs of the individual student. Professionals will work collaboratively with families, students, class teachers and teaching assistants, to ensure cohesive support for each individual student is embedded throughout their school day.
Our curriculum will extend before and beyond the formal school day; we particularly recognise the value of extra-curricular learning and activities for the development of young people with autism. The school will offer many differing activities to enable the interests of each child to be supported and we will share many of the same extension opportunities given to the students at Impington Village College.
As a school we will offer core lessons using the Zones of Regulation® (to teach self-regulation, emotional responses and support sensory and physical regulation) and Think Social® curriculums (to teach theory of mind and support in the forming of secure relationships). Throughout these curriculums our pupils will be taught to develop an understanding of:
Right and wrong

Honesty, truth and fairness

Respect for others and self

Importance of positive relationships

Self-management and a sense of responsibility

Understanding of their emotions and the nature of "expected" and "unexpected" behaviour

Through this shared approach our outcomes for our pupils are that they feel empowered to regulate their emotions

Promote independence

Enhance communication

Enhance social skills

Raise self-esteem